Jo Barrett on the Native Ingredients She's Serving Up at the Australian Open
09/02/2021
When Davidson plum and crocodile come to centre court. In partnership with Tennis Australia, we speak to regional chef Jo Barrett about bringing her unique approach to cooking with local ingredients to the tennis.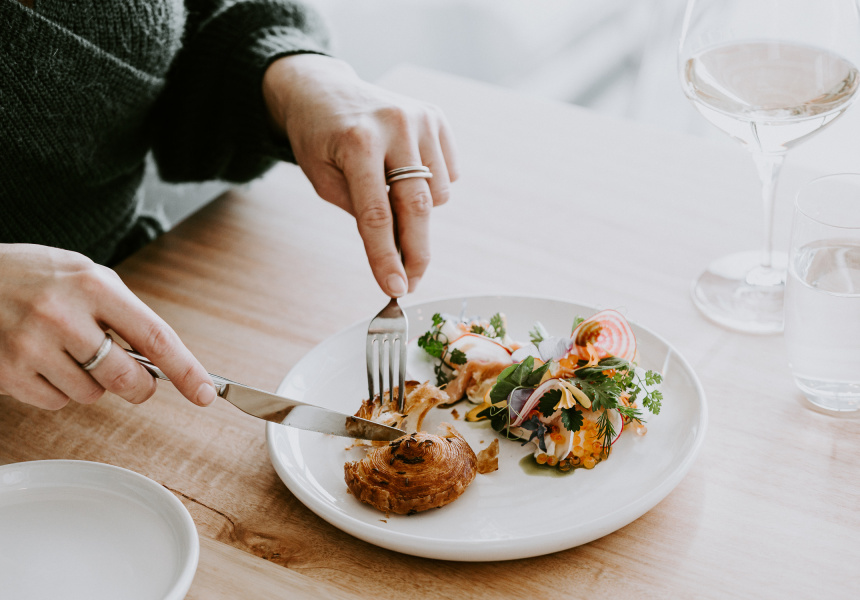 When chef Jo Barrett began her apprenticeship as a teenager 14 years ago, she had already formed the philosophy that guides her approach to food to this day. "As a chef," she says, "I want to use the most interesting local produce."
Barrett believes that eating local produce creates "a sense of place" that connects us to the land, which in turn helps it. "You're generating low food miles, and the food tastes better because it's growing in season in the soil you're surrounded by," she says. Native ingredients like wattleseed and lemon myrtle "grow here because they're meant to be here. They thrive in the environment; they don't demand inputs like extra water and extra power."
Barrett long-championed local and zero-waste food at the lauded Oakridge Wines restaurant in the Yarra Valley, which she ran with partner and chef Matt Stone until recently. She's now involved in sustainability evangelist Joost Bakker's latest futurist project, a two-bedroom, three-storey eco-house experiment in Federation Square, where she and partner-chef Matt Stone are living and growing all their food for the duration of their residency.
Barrett will also be one of four chefs showcasing her expertise with local produce at the Australian Open as part of the AO Chefs Series. Joining her is Mark Briggs of idyllic Paynesville restaurant Sardine Eatery and Bar, Michael Ryan, the owner-chef of Provenance in Beechworth, and Phil Wood, culinary director of Point Leo Estate and Merricks fine diner Laura.
As well as being tasty ingredients, these previously underutilised ingredients make for a talking point on the table. People "are looking for something special or something they haven't tried before," says Barrett. Native ingredients often tick that box, especially with the addition of Barrett's skills.
For example at the 2019 International Federation of Pastry, Gelato and Chocolate World Trophy in Milan, Barrett presented the judges with a dessert featuring eucalyptus, Davidson plum and a garnish of green ants that had everybody talking about edible insects. Far from being viewed as exotic, it's these kinds of ingredients that "we should be eating" in Australia, says Barrett.
Diners lucky enough to attend one of Barrett's two Chef Series dinners during the 2021 Australian Open will experience some of these native ingredients first-hand, with Davidson plum, crocodile and rainbow trout appearing on the menu. One of the less recognised native ingredients used by Barrett is Geraldton wax, a native flowering shrub native to Western Australia. "It's like a pine tree," says Barrett. The wax flower, popular in floristry, is inedible, but the leaves "taste a bit sour and a bit like bubblegum" and pair well with seafood, says Barrett, who also loves using the leaves in desserts such as the Davidson plum parfait she'll also be serving.
Other featured menu items include caviar and zucchinis from the Yarra Valley, one of Victoria's "incredible food bowls" and the home of the restaurant at Oakridge Wines. At Oakridge Barrett and Stone elevated the concept of zero waste to an art form, making nearly everything from scratch. They milled the flour that was used to bake the bread and used leftover milk to make brie.
In 2020, Barrett and Stone moved to the Greenhouse 5.0, a one hundred percent sustainable modern urban farm in Federation Square that aims to be self-sufficient. The Greenhouse features vertical gardens, a mushroom wall and a rooftop vegetable patch where the pair grow beans, zucchinis, peas and even oats, which Barrett recently harvested and rolled herself.
At the Australian Open Chefs Series events, Barrett is looking forward to bringing regional dining to the city and showcasing "really fresh seasonal produce – what you wouldn't expect at a sporting venue," she says. Despite a year of disrupted plans for just about everybody in 2020, Barrett says putting together the menu was remarkably easy. After all, she says, "nature keeps on growing. That's what Covid has taught us – even though our world might go crazy, the natural world will kick on regardless."
See more details about the AO Chef series and book now.
This article first appeared on Broadsheet Melbourne Website and was written in partnership with Tennis Australia.
News